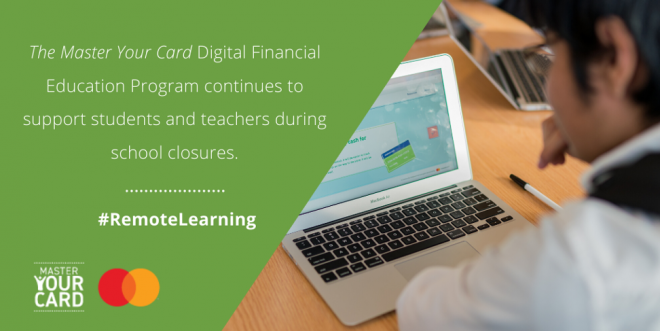 As organizations around the world mobilize to address the COVID-19 outbreak, Master Your Card is playing a key role in supporting teachers, students, and families with in-home learning solutions during a time of nationwide school closures.
Since 2016, Master Your Card has partnered with education technology company EVERFI to provide online financial education to classrooms across New York and Greater St. Louis. The interactive, self-paced program teaches, assesses, and certifies students to help them make smart money decisions and prepare for successful financial futures.
As schools close in the face of the COVID-19 virus and districts, teachers, and parents work together.
to adjust to the new normal, there has never been a more critical need for remote learning resources. The Master Your Card program provides a great solution since it is delivered digitally and is accessible at home.
Together, EVERFI and Master Your Card have swiftly developed solutions to extend the program beyond the classroom and into homes to reach students where they are during this time of need. Throughout this process, we are focused on ensuring that educators and families across New York and Greater St. Louis have engaging digital learning experiences. It is that spirit of commitment and service that will guide our community through this unsettling time successfully.
Through its long-standing partnership with EVERFI, the Master Your Card program has reached more than 35,000 students with impactful financial education.